The U.S. Naval Air Station known on the Bay as simply "Pax River" is home to a developmental wing that conducts testing for every aircraft in the Navy and Marine Corps.
And now for the first time ever, the Naval Test Wing Atlantic at Pax River has two women at the helm: executive director Deb Salamon and the newly appointed commander, Captain Elizabeth Somerville.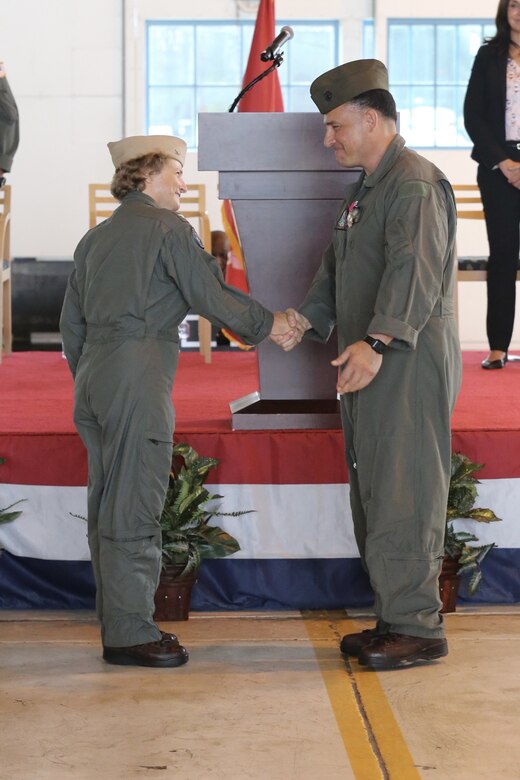 On Aug. 11, Somerville relieved previous commander, Commodore Col. Richard Marigliano, of duty. She and Salamon now both hold the titles of first woman in their respective roles.
Marigliano, who stepped into retirement during the ceremony after nearly 30 years of service, is a veteran of the United States Marine Corps who described his tour at the Naval Test Wing Atlantic (NTWL) as "the most challenging and rewarding over [his] 27 years as a Marine."
Naval Test Wing Atlantic, based at Patuxent River, operates under the umbrella of the Naval Air Warfare Center Aircraft Division (NAWCAD). NAWCAD is the largest Navy warfare center, developing and supporting all aircraft used by the Navy and Marines. The Test Wing is an important component of the work done by NAWCAD.
Focused on warfighter requirements," explains the NTWL website, "the wing provides aircrew, aircraft assets, maintenance support, operational and safety oversight, process and facility support for developmental flight and ground test."
Upon assuming her command, Somerville said, "This test wing is charged with an important mission: deliver lethality to our Sailors and Marines. It's a huge challenge but this team is up for it–flight test is the ultimate team sport."
Somerville is no stranger to this team sport. She is a graduate of the Massachusetts Institute of Technology, the Air Force Institute of Technology, and the United States Naval Pilot Test School and has accumulated over 2,500 flight hours. Over the course of a career spanning more than two decades, she has been a test pilot with the VX-31 Dust Devils of China Lake and VX-23 Salty Dogs of Pax River, led weapons and aircraft software development, and held numerous positions of leadership. She is the recipient of the Air Medal, two Meritorious Service Medals, two Navy and Marine Corps Commendation Medals, two Navy and Marine Corps Achievement Medals, and several campaign medals and citations.
For her part, Salamon is a longtime civil servant responsible for coordinating the efforts of almost 4,000 personnel. She is the first civilian director of Naval Test Wing Atlantic and is the recipient of the Department of the Navy Meritorious Civil Servant Award.
Of her position, she says, "It's an exciting challenge ramping up talent and supportive skills sets the Navy will need to test and evaluate evolving systems and technology that make up the future of naval aviation."
The Navy says the test wing is in capable hands with Salamon and Somerville.
"This Wing's leadership and our people make this team world class," said NAWCAD Commander Rear Adm. John Lemmon, who presided over the ceremony.
-Molly Weeks Crumbley